The Honors Program Student Leadership Team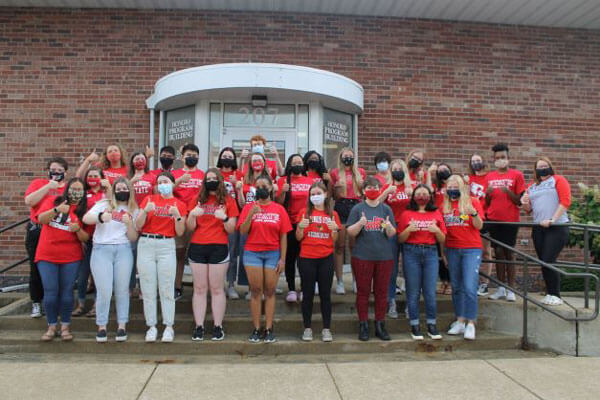 The Honors Program Student Leadership Team is comprised of enthusiastic students who are dedicated to pursuing an "Honors Mindset" and actively engaging in the Honors community. During the fall semester, leadership groups are organized around specific roles and responsibilities, including: Mentoring, Programming, and Recruitment. These groups work collaboratively in dynamic and innovative ways to establish and nurture an inviting culture within the Honors Program.
During the spring semester, the Honors Program Student Leadership Team is typically smaller in size and members fulfill a variety of roles and responsibilities. As space allows, an application window may be opened for new leaders between the fall and spring semesters.
Students selected for the Honors Program Student Leadership Team are employees of Illinois State University and are financially compensated. Additional benefits of fulfilling a position on the Honors Program Student Leadership Team include:
Networking with peers and staff members from various majors and diverse backgrounds;
Discovering personal strengths and opportunities for growth; and
Enjoying a unique work environment that combines the pursuit of being exceptional while having fun.
Fall 2023 leadership team applications now open
The Honors Program is accepting applications for the following positions:
Please review the position description(s) prior to completing the employment application.  Multiple positions can be selected during the application process. Applicants should prepare a resume to be submitted with their application, and to answer a few supplemental questions during the application process.
Application Timeline
The online application will close on Monday, April 3rd;
Interviews will take place in mid to late April. 

Honors staff will be in contact with those students selected to interview with more details on setting up their interview.
Questions should be directed to  Amy Secretan.